反抗與歸順 - 臺灣原住民的歷史容顏
The History of Keelung Harbor

詹素娟/Chan Su-chuan

2001-11-05
---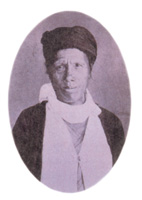 Final surrender of Bunung tribal leader Laho Ahmei
(Courtesy of Yuan-liou Publishing Co., Ltd.)
---
   日治時代五十年,臺灣的山地原住民–特別是泰雅族與布農族,曾發生多次可歌可泣的抗日行動,讓日人視之猶如肉中刺、眼中釘般,欲去之而後快。在悠遠的歷史長河中,激起陣陣漣漪的著名英雄有:布農族的拉荷‧阿雷、拉瑪達‧星星,與泰雅族的莫那‧魯道。本週台灣歷史之窗特別邀請中央研究院臺灣史研究所籌備處助理研究員詹素娟執筆,述說這頁悲壯的史詩之始末及其歷史意義。
  Over the half century of the Japanese colonial era, Taiwan Aborigines residing in mountain regions, especially the Taiya and Bunung tribespeople, undertook many heart-rending actions in resistance against Japanese rule, making the Japanese to view them as thorn in their sides and determine to remove them. A few of the better-known heroes who set a series of ripples into motion in this stream of history included Bunung tribesmen Raho Ari and Lamado Hsinghsing, and Mona Ludao of the Taiya tribe. For this week's Window on Taiwan, the Taiwan News has invited Chan Su-chuan, Assistant Research Fellow of Academia Sinica Institute of Taiwan History (Preparatory Office) to recount this tragic epic from its inception to it denouement and discuss its historical significance.
---
  領有臺灣二百年的大清帝國,一直未能全面控有今花蓮、臺東兩縣的東臺灣,更無法進入中央山地。因此,中央山脈一線以東的原住民,遂能在帝國邊陲固守傳統社會文化,保有獨立自主的族群地位。然而,此種情勢卻在政權易幟後,遭日本軍警以優勢現代化武力,及通電鐵條網、警備道、駐在所等設施與勢力包圍下,產生鉅大的變化。
  Over the two centuries during which the Ch'ing Empire was in possession of Taiwan, it was never able to extend its control into the region of eastern Taiwan constituting present-day Hualien and Taitung counties, let alone into Taiwan's central mountain regions. Hence, Aborigines east of Taiwan's central mountain spine were able to preserve their traditional society and culture and maintain the independent, autonomous statuses of their tribes. After the the Ch'ing government's ceding of territorial sovereignty to Japan, however, the encroachment of Japanese soldiers and police into these regions, with their superior modern weaponry, telegraph networks, security cordons and police outposts, brought about a major transformation of circumstances.
---
 拉荷‧阿雷
布農族的抵抗,肇因於大正三年(1914)實施於東部和南部原住民地區的「銃器收押」政策。總督府為有效控制原住民的強悍武力,強行沒收族人賴以狩獵為生的獵槍;在日警毫無轉圜餘地的強硬執行下,迫使布農族人殺警奪槍,造成一連串衝突、鎮壓、安撫與勦滅的事件。
Raho Ari
  The Bunung resistance movement began in response to implementation of the weapons confiscation policy in eastern and southern Taiwan in Year 3 of the Taisho Imperial Era (1914). In order to bring the fearsome armed might of the Aborigines under effective control, the Viceroy's Office undertook a program of forced confiscation of hunting rifles which the tribesmen depended upon for hunting. The Japanese police's uncompromising execution of that policy prompted the Bunung people to kill policemen and take their guns, leading to a series of conflicts and suppression, pacification and extermination actions.
---
  拉荷‧阿雷是布農族大分部落(今南投縣信義鄉境內)的頭目。他對日警誘騙拉庫拉溪流域布農壯丁集體前往花蓮機場參觀,卻趁各部落呈空虛狀態,逕行搜刮獵槍的行為極感憤怒,遂在大正四年(1915),與其弟阿里曼‧希堅率五十六名族人襲擊大分駐在所,將日警全部擊斃。此役,拉荷‧阿雷且親自手刃七名日警。之後,拉荷‧阿雷家族藏身荖濃溪上游的塔馬荷,建立日警無法到達的基地;臺東、花蓮兩廳的族人,紛紛遠來投靠,拉荷‧阿雷遂逐漸擁有二十七戶、二六六人的勢力,與日警展開長達二十年的抵抗生涯。
  Raho Ari was chief of the Bunung settlement of Tafen in the region of present-day Hsinyi Prefecture of Nantou County. He was enraged by the Japanese police's stratagem of tricking the able-bodied men in the Lakula Creek region to tour an airport in Hualien so that the police could search their villages while in weakened state and seize their hunting rifles. Consequently, in Taisho Year 4 (1915), he and his younger brother Ariman Shiken led 56 tribesmen in an attack on the police outpost at Tafen, killing all of the policemen there. In this action Laho Ahmei is said to have personally dispatched 7 policemen with his blade. Afterward, his clan went into hiding at Tamaho in the upper reaches of the Laonung Creek, establishing there a base inaccessible to the Japanese police. Tribesmen hastened from great distances in Taitung Ting and Hualien Ting ["ting" being a large administrative district of the time] to join forces with him, eventually comprising a community of 27 clans and 266 people, who launched a 20-year-long war of resistance against the Japanese police.
---
 拉瑪達‧星星
  與拉荷‧阿雷同時的另一位布農英雄,是新武呂溪流域下馬谷社(今臺東縣海端鄉)霧鹿地區的拉瑪達‧星星,日警眼中的「凶蕃之王」、「臺東廳理蕃之癌的梟雄」。
Ramata Yanyan
  Another Bunung hero contemporaneous with Laho Ahmei was Ramata Yanyan of the Wulu area of Ebako She ["she" being a smaller district within a "ting"] in the Hsinwulu Creek basin, corresponding with present-day Haijui Prefecture in Taitung County. In the eyes of the Japanese police, he was regarded as "king of the ferocious barbarians" and as a "bold knave, the bane of barbarian managment in Taitung Ting."
---
   拉瑪達‧星星除勇猛善戰外,兼有頭腦靈活、擅於智謀的長處,其飄忽不定的行動,令日警大感頭痛;臺東廳警務課長淺野義雄,甚至譽之為原住民中的北條早雲(日本一著名忍者)。大正三年(1914),拉瑪達‧星星在襲殺新武呂駐在所日警後,率族人逃到大崙溪上游高山深處的「伊加諾萬」躲藏。十數年間,從未有日警能夠進入「伊加諾萬」;直到昭和四(1929)年,日軍參謀本部的陸地測量部仍因無法進入此區,而在高山實測地圖上的這一帶留下空白,為臺東廳唯一尚未歸順的地區。
  Besides being a courageous and fearsome warrior, Ramata Yanyan had a lively intelligence and was skilled in tactics, his hit-and-run movements causing great headaches for the Japanese police. The Taitung Ting Police Chief Asano Yosio even went so far as to compare him with Hozio Soun, a famed Japanese ninja. In Taisho Year 3 (1914), after attacking and killing policemen at the Japanese police station in Hsinwulu, Ramata Yanyan led tribesmen into the deep mountains of the Talun Creek region to hide out in an area called Ichianomai. For well over a decade, no Japanese police were able to penetrate this area. In Showa Year 4 (1929) a land surveying team attached to the Japanese General Staff was still unable to access the region, leaving it blank on their high-mountain survey map, representing the only region in Taitung Ting which had not yet come under Japanese control.
---
   拉馬達‧星星以「伊加諾萬」為基地,出沒八通關越警備道及附近各地,並率族人襲擊高雄州、花蓮廳、臺東廳新武呂溪方面的日警。由於其在霧鹿警備線一帶頗具影響力,能左右各部落的動向,日警遂對拉馬達‧星星相當顧忌,深恐妄加討伐,會引起全面性抵抗。因而一直對其採取懷柔政策,希望拉瑪達‧星星能歸順投降。
  From his base at Ichianomai, Ramata Yanyan would cross the security cordon of Patungkuan and suddenly appear and disappear in neighboring locales, leading tribesmen in attacks on police in Kaohsiung Chou ["chou" being an administrative region intermediate between "ting" and "she"], Hualien Ting, and the Hsinwulu area of Taitung Ting. Because he enjoyed considerable prestige in the region of the Wulu security cordon and could influence the actions of the neighboring Aboriginal communities, the Japanese police were quite concerned about him and were afraid that if they were too aggressive in hunting him down, it might spark a full-scale uprising. For this reason they persisted in applying a policy of moderation, hoping that Ramata Yanyan would voluntarily surrender and submit to Japanese rule.
---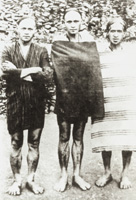 Mona Lutao with fellow tribespeople
(Courtesy of Yuan-liou Publishing Co., Ltd.)
---
 莫那‧魯道
   莫那‧魯道則是南投霧社的泰雅族賽德克人。青少年時期的莫那‧魯道,即以剽悍聞名;父親死後,繼任馬赫坡社新頭目,成為霧社地區幾個具影響力的領導人物之一
Mona Rudao
Mona Rudao was a Taiya tribesman of the Sedeq sub-tribe in the Wushe region of present-day Nantou County. In his youth he was known for his truculent nature. Upon his father's death, he succeeded him as chief of the Mahebo She tribal region, thus becoming one of the most influential leaders in the larger Wushe region.
  大正元年(1911),莫那‧魯道曾經前往日本參觀。在這趟旅行中,他看到日本警察對待人民的溫和態度;對照之下,特別感受到殖民地「理蕃警察」的暴戾與差別對待。昭和五(1930)年,日人計畫在霧社興建學校宿舍,馬赫坡社負責搬運木材;在工資低廉、扛運大木等如勞役般辛苦工作之餘,馬赫坡社人對日人竟在布農狩獵區及祖先發源地砍伐木材,極感憤怒。此是公憤,加上長子敬酒被辱、妹妹遭日人遺棄等私仇,莫那‧魯道遂在十月二十七日上午,率三百多人突襲霧社公學校聯合運動會,殺死日人一三四名之多,史稱「霧社事件」。事件發生後,日人發動大批軍警、派出多架飛機進入霧社,力圖鎮壓反叛。莫那‧魯道眼見己方傷亡慘重,無力抵抗,先下令家人集體自盡;並為了不讓敵人取走自己首級,而走入深山以長槍自殺。
  In Taisho Year 1 (1911), Mona Rudao paid a visit to Japan. During his journey, he noted the kindly manner in which the police treated the people, thus becoming more sensitized to the brute force and discriminatory treatment meted out by the Taiwan colonial "barbarian management police." In Showa Year 5 (1930) the Japanese planned to erect a school and dormitory in Wushe, with the people of Mahepo She serving as porters of timber. Besides the scanty wages and difficulty of the work which made them feel like slave laborers, they were extremely incensed at the Japanese' felling trees in their tribal hunting grounds and ancestral lands. Due to this pubic outrage and out of personal desire for revenge for an insult to his eldest son when offering a toast to the Japanese and for his younger sister's being abandoned by her Japanese husband, on October 27, Mona Rudao led more than 300 tribesmen in a surprise attack upon Japanese in attendance at an athletic meet held at Wushe Public School, killing 134 Japanese — the event referred to in history books as the "Wushe Incident." In the aftermath of the event, the Japanese sent a large contingent of soldiers, police and military aircraft to Wushe to put down the rebellion. Seeing that his people had suffered heavy casualties and had become powerless to resist, Mona Rudao ordered his clan to commit mass suicide, and, in order not to deprive the enemy of his head, he made his way into the deep mountains where he committed suicide with a spear.
---
原住民英雄投降、殉死,日人山地統治史揭開新頁
  這三位原住民英雄,各有不同下場。拉荷‧阿雷在關山越警戰道完成後,知道大勢已去,而於昭和八(1933)年接受安撫,歸順總督府。在比鼻烏(今高雄縣桃源鄉復興村)終老,以九十高齡結束一生。
The end of Aborigine resistance and consolidation of Japanese rule
  These three Aborigine heroes ultimately met with different fates. After the Japanese had fully established a tight security ring in Kuanshan, Laho Ahmei came to realize that he had already lost the advantage. So, in Showa Year 8 (1933), he submitted to Japanese colonial rule, passing his waning years in Pipiwu (present-day Fuhsing Village in Taoyuan Prefecture, Kaohsiung County) and dying at the age of 90.
---
  不願歸順的拉瑪達‧星星,率族人多次襲擊警所、殺死日人;並在發生大關山事件後,引起官府極度重視。最後,在日方組成含警察八十八人、築路工人一百四十名的搜索隊強力搜捕下,終於昭和七(1932)年與長子、四子等一起被捕,並在年底處死。
  Recalcitrant Ramata Yanyan repeatedly carried out raids on police outposts and killed Japanese, provoking great official concern as the consequence of the Takuanshan Incident. Finally, after a determined search for him by a contingent of 88 police and 140 road construction workers, he was apprehended in Showa Year 7 (1932) along with his eldest son, fourth son and others and was executed at year's end.
---
  遁入深山自殺的莫那‧魯道,其遺骸卻在昭和八(1933)年被日人意外尋獲。日人為求洩恨,竟將遺骸在展覽會公開展示,隨後又送到臺北帝國大學作為學術研究標本。直到1974年,莫那‧魯道才得以遷葬霧社,入土為安。
  The skeleton of Mona Rudao, who had fled into the deep mountains and committed suicide, was stumbled upon by a Japanese in Showa Year 8 (1933). Out of revenge, his skeleton was put on public display at an exhibition, following which it was sent to Taipei Imperial University [forerunner of National Taiwan University] as a research specimen. It was not until 1974 that Mona Rudao's remains were finally returned to for burial and could rest in peace.
---
  拉荷‧阿雷的歸順,日人特地舉辦盛大儀式,昭告世人。大關山事件後,日警展現強大武力,積極施行「集團移住」,強迫布農村社離開高山故居,遷移到警戒線內,以便管束。霧社事件後,日人檢討原因,對泰雅族更採分別壓制、懷柔撫化的策略。此後,日本統治者在中央山地的勢力,得能徹底建立;原住民與臺灣總督府的關係,自此進入新階段。
When Raho Ari submitted to Japanese rule, the Japanese held a grand ceremony to dramatize the event. After the Takuanshan Incident, the Japanese police deployed strong armed forces and actively carried out "group relocation," forcing Bunung village communities to vacate their former high-mountain habitats and move within security cordons to facilitate control of them. After the Wushe Incident, the Japanese investigated its causes and subsequently adopted a policy toward the Taiya people of selective suppression balanced by benign pacification. From that time forward, extension of Japanese rule over the central mountain regions was consummated, and the relationship between the Aborigines and the Japanese colonial government entered a new phase.
---
 Edited by Tina Lee/ translated by James Decker
李美儀編輯/曹篤明翻譯